Bracelets & Cuffs by Canadian Jewelery Designer, Irit Sorokin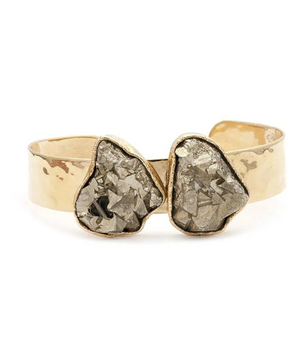 Wearable Art for Everyday
From her home studio in Vancouver, Canada, Irit creates stunning and unique jewelry from raw materials and found treasures.
Inspired by contemporary fashion and art and through visiting new places, she incorporates a wide variety of semi-precious gemstones, metals and findings from around the world into her designs, combining materials and textures to create modern designs.
She continues to take new inspiration from ancient cultures, current fashion and global travel.
Uvarovite Garnet Cuff
Green uvarovite garnets wrapped in gold foil set in nickel free gold filled cuff.

Cuff width: 1/2 inch; approximate diameter: 7 inch adjustable cuff.
This is a rare gemstone and a gorgeous statement cuff!