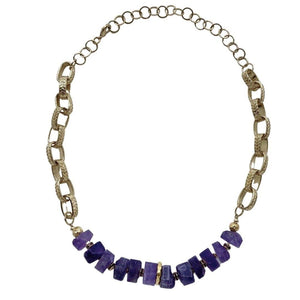 Amethyst Necklace with Gold Chain
This beautiful Amethyst Necklace is made with Brazilian Purple Amethyst beads. Gold findings accompany the Amethyst beads on a gold chain. The amethyst beads are Brazilian grade AA quality.
Amethyst Necklace is approximatly 23 inches and is adjustable.
About Irit Sorokin Jewelry
Handmade in Vancouver, Canada
Created using natural gems, stones, and findings from around the world
Unique and wearable works of art
Irit Sorokin Designs is a collection of unique, contemporary, and timeless jewelry. Inspired by international fashion and design, ancient civilizations, architecture, and industrial design, Irit Sorokin's pieces are handcrafted through an intuitive and evolutionary process that combines imagination, inspiration, and design. Each resulting work is a unique, one-of-a-kind piece of jewelry that personifies beauty, innovation, character, and sophistication. Irit does not create seasonal lines or collections but, rather, versatile designs that can be worn throughout the year by people of all ages, in settings that are both formal and casual. Irit Sorokin's pieces uniquely define the individual style, balancing both contemporary and classic design.
Taking inspiration from global fashion, art, architecture, history, and design, Vancouver-based designer Irit Sorokin has been creating striking and unique pieces of jewelry for over 18 years. Her multifaceted pieces and design process have evolved over time. Her pieces reflect her distinct perspective, character, and style. The designs are elegant and innovative, all while continually pushing the boundaries of typical jewelry design.